Specifications
2 KW & 4.5 KW
Model
Watts
Volts
Amps
Phase
Replacement
Part No.
OH2028
2000
208
9.6
1
HE20208
OH202
2000
240
8.3
1
HE20240
OH204
2000
480
4.2
1
HE20480
OH205
2000
550
3.6
1
HE20550
OH206
2000
600
3.4
1
HE20600
OH4528
4500
208
21.6
1
HE45208
OH452
4500
240
18.8
1
HE45240
OH454
4500
480
9.4
1
HE45480
OH455
4500
550
8.2
1
HE45550
OH456
4500
600
7.5
1
HE45600
Shipping weight ( 11 lbs. for 2KW ) ( 18 lbs. for 4.5KW )
277 Volt and 600 Volt available as special order.

---
Installation Instructions
Minimum clearance dimensions from ceiling to top of 12" & walls to sides & ends 24".
Combustible material should not be placed in the radiation path.
Wiring is single-end, insulated, nickelplated, stranded copper wire with 6" of wire available for connection in conduit fitting.
6" long nipple and type "LB" conduit fitting are packed with heater, but not attached.
Spacing from adjacent heaters should be a minimum of 36".
---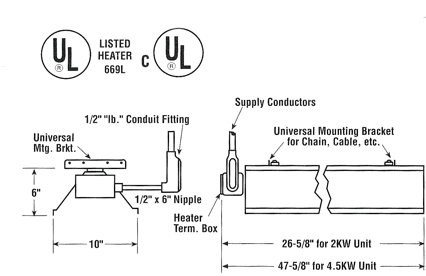 ---
We've seen your application. Call Us for application Assistance
(901) 452-4516