TH300024 (Line Voltage Non-Programable Thermostat)
TH300024

With TRIAC switching, this digital non-programmable model delivers exceptional accuracy and silent operation in a stylish, easy-to-use design
MODELS & RATINGS
Part Number
Wattage / Voltage
Amp Rating
HZ
Wiring
Price
Add To Cart
TH300024
1500 W @ 120 V
12.5 A resistive*
60 Hz
2 wires / SPST
81.42
3000 W @ 240 V
12.5 A resistive*
60 Hz
2 wires / SPST
*Min. 2 A load
SPECIFICATIONS
TEMPERATURE CONTROL
Microprocessor-optimized PIA
Heating cycles: 15 seconds
Accuracy: ± 0.15ºC / 0.27ºF

SWITCHING ACTION


TRIAC: Silent operation

TEMPERATURE SETTING

Manual, ºC / ºF selectable

DIMENSIONS (H•W•D)

120 x 115 x 26 mm / 4.8 x 4.5 x 1 inches
Features
Ultimate temperature control the most accurate type of thermostat on the market (±0.15ºC / 0.27ºF)

On-screen heating power indicator gives at-a-glance verification of power being used

2-wire non-polarized connection means fast, hassle-free installation

Up/down buttons enable easy temperature setting

Also ideal for radiant ceilings

Battery free
ADDITIONAL INFORMATION
The advantages of TRIAC switching
Although this thermostat is non-programmable, its TRIAC precision still saves up to 10% on your heating bill. Here's how:

100% silent operation - ideal even for bedrooms
Unsurpassed temperature control eliminates temperature swings
No temperature swings means you are comfortable at a lower setpoint
Comfort at a lower setpoint saves money on heating bills
INSTRUCTION MANUALS
TH108.pdf (format PDF)

To view a PDF, you must have Acrobat Reader.
Click on the icon to download it for free.

CERTIFICATION
WARRANTY
---
We've seen your application. Call Us for application Assistance
(901) 452-4516
166 Neil St, Memphis, TN 38112 USA • Tel: (901)452-4516 • Fax (901)452-4522 • www.thermalinc.com
Thermal Equipment Sales Co. Inc.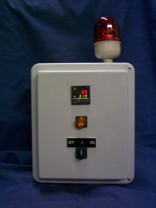 30 Years Helping to Solve Your Applications!