BERKO Electric Wall Heaters
Model "FRC" Commercial/Architectural
Fan Forced Heater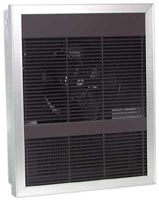 Rough-in Box Dimensions:
18 1/4" High - 14 3/8" Wide - 3 3/4" Deep


Features

16 Gauge Grill
Built-in Tamperproof T'stat
Thermal Cutouts
Fan Delay
Disconnect Switch
Architectural Style
Heavy 16 Gauge Front grille has elegant apperance and is extremly durable. The chocolate brown satin finish looks great in almost any decorators scheme.

Quiet Operation
The five-blade fan, and the rugged impedence protected, totally enclosed motor provide quiet operation.

Grid Pattern Element Fins
Low watt density heating elements with rugged steel fins provide lower operating temperatures (i.e. longer life), uniform air currents ( more throw).

Built-in Fan Delay
When the t'stat calls for heat, fan action is delayed momentarily until the heating element is warm. Preventing circulation of cold air on start up. When the t'stat is satisfied, the fan continues to operate until the heating element is cool, providing longer element life.

Built-in Thermostat
Room temperature is controlled automatically by a sensitive, tamperproof, snap-action thermostat, accessible with a narrow blade screwdriver through the front cover. An option low voltage control relay can be added for remote thermostatic control.
Click Here For:


Installation Manual - Bulletin

SELECTION CHART
Catalog#
Volts
Watts
Weight
Your Cost
Add To Cart
FRC4827
277/240
4800/3600
25
494.40
FRC4824*
240/208
4800/3600
25
494.40
FRC4820
208
4800
25
494.40
FRC4027*
277/240
4000/3000
25
419.77
FRC4024*
240/208
4000/3000
25
419.77
FRC4020*
208
4000
25
419.77
FRC3027*
277
3000/1500
25
419.77
FRC40203
208
3 Phase
4000
25
487.03
FRC48243
240
3 Phase
4800
25
529.25
FRC40243
240
3 phase
4000
25
487.03
*Units Can be Field Converted to Half-wattage!
These Prices are good for quanities of up to 5 pecies.
Please Call us for Quanity Discounts.
Shipping:
This heater is not Always in stock.
***Expect 2 weeks for Normal delivery!

ACCESSORIES (OPTIONAL)
Catalog#
Description
Your Cost
Add To Cart
FRPE
Pneumatic/ Electric Switch
157.11
FRR2
24V Time-Delay Relay
46.64
FRR12
120V Time-Delay Relay
46.64
FRS1PB
1" Semi-recessed Mtd. Sleeve
52.53
FRS2PB
2" Semi-recessed Mtd. Sleeve
52.53
FRSMPB
Surface Mtd. Sleeve
52.53
---
We've seen your application. Call Us for application Assistance
(901) 452-4516