Payne 18E
Three Phase Angle Fired SCR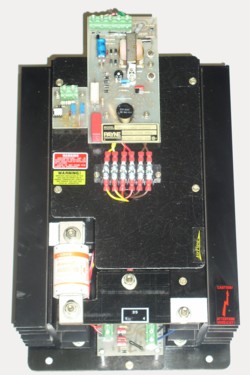 3 Phase Phase Angle Fired SCR
Stepless Voltage Control
All Solid State Contruction
2 Millisecond Fuses
Transient Voltage Protection
Proprietary Heatsinks
Silent Switching
Infinitely Variable Voltage Control
SCR's: Model 18E Phase Angle Fired SCR Controllers provide infinitely variable control of Three-phase AC Voltage loads Typcial applications include, resistive heating elements, Electric ovens or furnaces, Heat sealing, Drying Foam Cutting, Plastic Extruding and Molding, and all types Process Heating. If operated within the stated rating for current, voltage and temperature should run for millions and millions of cycles without failure and have no known MTBF or Life expectancy rating.
Click here for the Online Bulletin!
Advantages:

Millions of Cycles
No electromechanical Noise
No moving parts
Quite
protection from chemicals and dust.
High resistance to shock and vibration.
No Arcing Contacts
Dis-advantages:

Contact voltage drop "1 to 1.6 volts"
Heat sensitive 50&deg C
Heat producing
Tolerance to voltage spikes.
---
We've seen your application. Call Us for application Assistance
(901) 452-4516