FGDH Full Coverage Drum Heaters!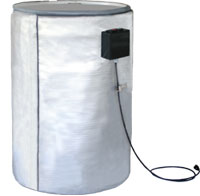 Click For Detail!
Works with Any 55 gallon Drum
Full-coverage
Reduces heat loss
Perfect for Metal and Poly Tanks
Execellent durability and flexibility
Digital Control!




Specifications

Silicone impregnated cloth facing and liner
1" (25mm) fiberglass insulation
Digital on / off temperature controller

50° to 450°F (10° to 232°C) for metal
50° to 160°F (10° to 71°C) for plastic

Audible and visual alarms
Heated area:

FGDH: Lower third
FGPDH: Lower two thirds

Patented grounded heating element
Dielectric strength of over 2000 volts
Closure: Hook and loop fastener like VELCRO®
500°F (260°C) maximum exposure temperature on heating surface
Power cord 6 feet (1.8m) long
Power plug

120VAC: NEMA 5-15
240VAC: bare wires

Designed for use indoors

FGDH Drum Insulator Specification Sheet
New Price
Catalog#
Drum Size
Diameter
Voltage
Wattage
Weight
Price $
Add To Cart
Full Coverage for Metal Drums!
FGDHC-55
55
22-1/2
FGDHD-55
55
22-1/2
Full Coverage for Plastic Drums!
FGPDHC-55
55
22-1/2
Digital Indication and Control
Now this Great Heaters comes with A Digital Temperature controller! Superior Performance, Control and Quality In one great heater. This Is our best solution for Drum heating applications. The Most Efficient and highest quality of any heater on the Market!