Threaded Inline Heaters
Features

Air temperatures to 1400°F (760°C)
For applications requiring high pressure air
Available with both ends threaded on 3/8&quot, 1/2&quot, 1-1/4&quot, and 2-1/2&quot NPT units
All Stainless Steel housing
Available with high temperature electrical feedthroughs
Serpentine Heating Element housed in a quartz or ceramic tube is secured into a stainless steel pipe with threaded ends.

Style A

Should be used whenever an absolute leak-proof system (up to 150 PSI) is required
Two high temperature feedthroughs placed 180 degrees apart at the inlet of the heater for electrical connections
Maximum inlet temperature 900°F

Style B

Maximum air pressure 150 psi, but will have slight air leakage through power wire strands
12&quot (305mm) long power wires exit at a 90 degree angle from the heater
Maximum inlet temperatures 200°F
New On Line Ordering



Catalog#
Watts
Max Volts - Phase
Amps
Heater Size NPT
Price $
Add To Cart
Style &quotA&quot
038821
1.6kW
170 - 1
9.4 A
3/8&quot
$644.00
038823
4 kW
220 - 1
18.2 A
1/2&quot
$693.00
038825
6 kW
220 - 1
27.3 A
1-1/4&quot
$781.00
Style &quotB&quot
038822
1.6 kW
170 - 1
9.4 A
3/8&quot
$589.00
038824
4 kW
220 - 1
18.2 A
1/2&quot
$654.00
038826
6 kW
220 - 1
27.3 A
1-1/4&quot
$743.00
063007
18 kW
240 - 1/3
75.0 A / 44.0 A (3 phase)
2-1/2&quot
$1919.00
074439
24 kW
240 - 1/3
100.0 A / 57.8 A (3 phase)
2-1/2&quot
$1919.00
Accessories
057081
SCR Power Controller
120 - 277 Volt 25 amp with 0-100 % pot
$216.00
039272
Thermocouple
Type K Thermocouple Sensor 3/16&quot OD
$70.00
MTS-24A130-KX
Temperature
Control Panel
Closed loop control includes Digital temperature controller in NEMA 4X enclosure with Solid State Relay, Circuit breaker (32 amps) and provisions for remote air flow switch
$1200.00
Heater Selection
To determine the proper size heater, plot a point on the Chart below, which defines your required air temperature and flow. The nearest curve to the right and above this point represents the proper heater selection. Then Click here to determine your require Wattage. and check out the definitions and theory Page.
All temperature measurements were created using an exposed junction, 1/16&quot diameter "K" thermocouple.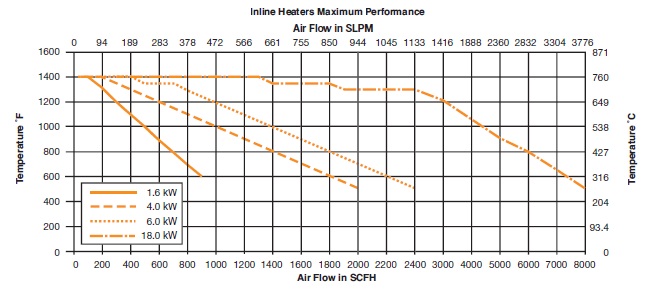 Inline Heaters Operating Manual (PDF)
Specifications and Accessories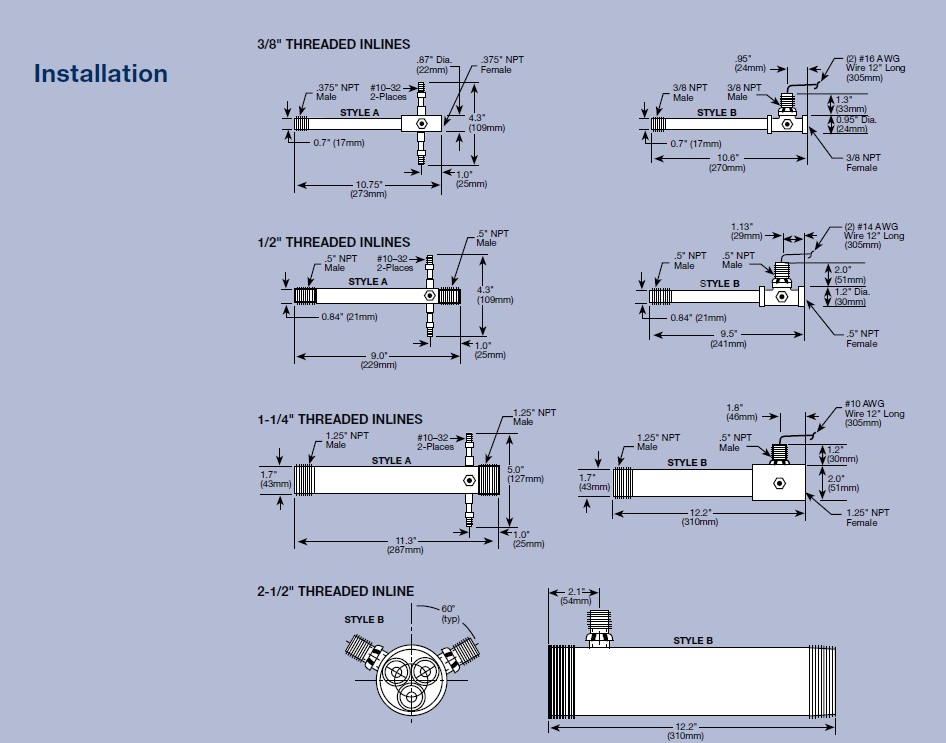 ---
We've seen your application. Call Us for application Assistance
(901) 452-4516
166 Neil St, Memphis, TN 38112 USA • Tel: (901)452-4516 • Fax (901)452-4522 • www.thermalinc.com
Thermal Equipment Sales Co. Inc.

30 Years Helping to Solve Your Applications!