Series I, II, III Heaters
"Series" Heaters are compact heaters designed to provide the maximum temperature rise in the smallest package. Applied properly they will provide a life cycle of 5000 hours or more. Its important to realize that these heaters need good clean air flow and require a cool down cycle prior to shut-down of airflow.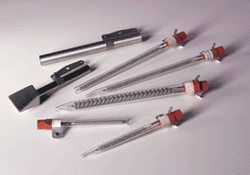 Features
Air temperatures to 1600°F (871°C)
Quartz outer tube housing.
Nozzled (Style B) or open-ended (Style A) design
High-temperature silicone rubber Rear Adapter/Terminal Assembly
Quick replacement with quick connect spade terminals and air inlet.
Maximum air pressure 7 psi
Maximum inlet temperature 80°F (27°C)
See Datasheet for More Information!
Heater Selection
To determine the proper size heater, plot a point, which defines your required air temperature and flow. The nearest curve to the right and above this point represents the proper heater selection. Then Click here to determine your require Wattage. and check out the definitions and theory Page.

All temperature measurements were created using an exposed junction, 1/16" diameter "K" thermocouple.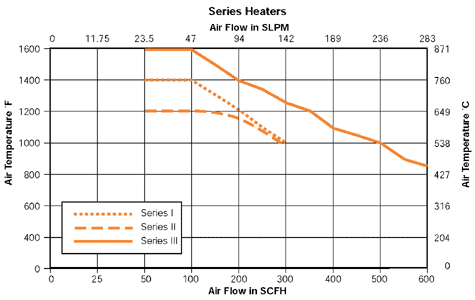 Must Be Ordered In Quantities Of 2 For Series I, II, and III
Catalog#
Watts
Max Volts
Watts@120VAC
Tube Style
Length
Tube Dia
Nozzel Dia
Price $
Add To Cart
SERIES I
010226
1050
180
466
&quotA&quot
6.88&quot
.41&quot
.41&quot
$146.00
014372
1000
130
850
&quotA&quot
7.75&quot
.41&quot
.41&quot
$162.00
014682
680
145
465
&quotB&quot
7.78&quot
.41&quot
.07&quot
$178.00
014683
650
105
na
&quotB&quot
8.75&quot
.41&quot
.07&quot
$195.00
SERIES II
016501
1125
130
959
&quotA&quot
3.88&quot
.41&quot
.41&quot
$130.00
016503
850
80
na
&quotA&quot
3.88&quot
.41&quot
.41&quot
$130.00
016502
600
95
na
&quotB&quot
4.88&quot
.41&quot
.07&quot
$163.00
016504
650
70
na
&quotB&quot
4.88&quot
.41&quot
.07&quot
$162.00
SERIES III
017558
2050
160
1150
&quotA&quot
6.88&quot
.59&quot
.59&quot
$211.00
017575
1450
135
1145
&quotB&quot
7.88&quot
.59&quot
.12&quot
$243.00
Controls
057081
Open Loop SCR Controller w/Manual Pot 0-100 Percent, 25 amp 120-277 VAC
$216.00
MNS-15A20-KX
Closed Loop Digital Temperature Controll Panel with Thermocouple, 20 amps 120 volts
$975.00
Click Here For: Specifications and Accessories
Click Here For: Series I, II, III Heaters Operating Manual (PDF)

---
We've seen your application. Call Us for application Assistance
(901) 452-4516